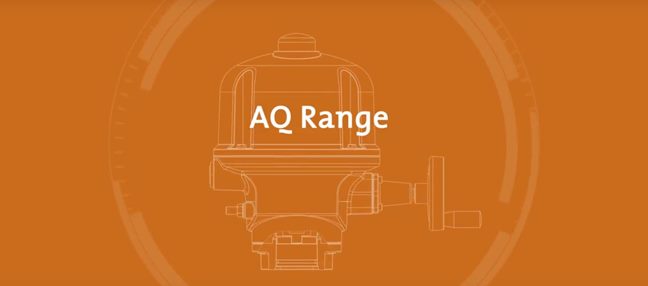 AQ Range fra Bernard Controls
Denne nye AQ-serien garanterer de grunnleggende funksjonene som kreves for å betjene en ventil eller en spjeld i moderate miljømessige og operasjonelle begrensninger. Disse nye produktene er enda mer nær standardaktiveringsbehovene enn den tidligere FIRST BC-generasjonen.
Product specifications
Torque range:
15 to 500 Nm (direct mount)
Up to 200 000 Nm on request
Type of Controls:
Electromechanical SWITCH
Integrated LOGIC - New Version (v2)
BC Duty & Modulating Classification:
On-Off: Class A
Inching / Positioning : Class B
Modulating : Class III
Environment: IP 68 / C4 / T: -20°C ...+60°C (-40°C as an option)

Product benefits
Compact & optimized design
Super compact design, including integrated controls
Product architecture & torque range adapted to customers' requirements
Multi-voltage & multi-frequency products (AQ3L& AQ7L): suitable whatever your location on the globe
Short delivery time
Reliable design
BC design methodology built-up on the nuclear market highly demanding requirements
80+ years of continuous experience and BERNARD CONTROLS inventor of the compact quarter-turn electric actuator
Heavy duty design : full aluminium enclosure protected by powder coating Black & Champagne, IP68, low temperature option
100% of products tested with automatic process before delivery
Easy to use
Easy commissioning: pre-wired version (1-phase only), set up of travel limitation system with a standard screwdriver...
Large LCD display on LOGIC version for user-friendly commissioning and local command. Easily orientable (4-way direction) in few clicks
Declutch-free manual override: essential for quick intervention on site
BC APP: Bernard Controls new mobile application for setting, operating, troubleshooting and easy access to documentation
Integrated controls (LOGIC version)
Turn-key, time & cost-saving solution
User-friendly & intuitive
Non-intrusive setting for enhanced safety and reliability
Compatible with common fieldbus protocols: Modbus RTU, Profibus DPV1.
Bluetooth communication (as standard) to communicate with Bernard Controls' BC App.