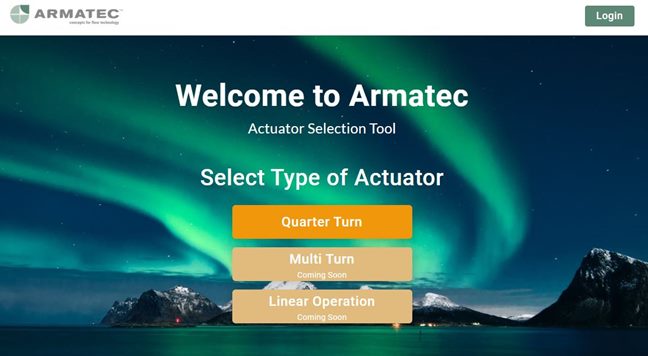 Actuator selection tool
Armatec is now launching the new Selection Tool for valve actuators! We have developed a calculation and sizing tool that helps you choose the correct actuator within 2-3 simple steps! Register now for a 20% launch discount on all orders placed before end of July 2021!!!
From our new selection tool for actuators, you are able to size and find your best suited actuator within 2-3 simple steps. We have based our recommendations on our 50 years of expereince in suppling these products to all types of industries worldwide.
After selection and/or adding your preferred filters, you can then either email or download the Product Datasheet with all required information. For an easy feedback, enquiry or any questions to our Product Champions, simply click ''Enquire Now''
TRY IT NOW - ARMATEC SELECTION TOOL

If you are and expert, you are able to choose ''Expert'' mode, rather than our default ''Standard'' recommendations from our Product Champions.
By creating a USER on our tool, you are able to save and keep track of your selections. You will also get additional 30% discount on all products ordered before end of July!