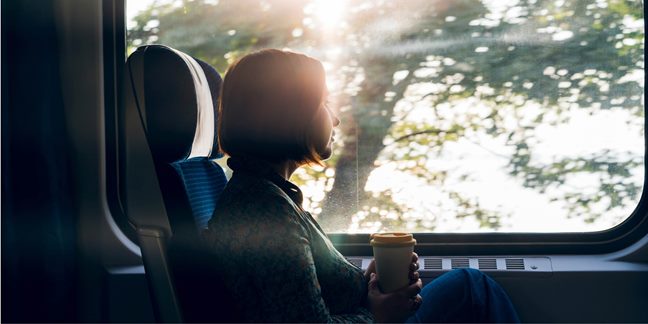 We make trains just a little better
In recent years, the train has been enjoying something of a renaissance. One important factor here is that trains have considerably lower carbon emissions per passenger kilometre than cars and planes. Redundant solutions within sustainable flow technology ensure reliability even in a crisis – thereby strengthening the train's competitive edge over other means of transport.
Growing in importance
Sweden's climate goal is zero net emissions* of greenhouse gases to the atmosphere by 2045. More passenger journeys by train are part of the plan for reaching this goal.
Here are a few figures showing what this is all about: An electric train in Sweden (powered by electricity labelled Good Environmental Choice) generates about 10 grams of CO₂ per passenger kilometre. The equivalent for an electric train outside Sweden is 24 grams of CO₂ per passenger kilometre. Travelling by plane, on the other hand, generates some 160–325 grams of CO₂ per passenger kilometre.
Dependability and punctuality are important factors when choosing a means of transport for both private and business travel. This makes operational reliability extremely interesting.
Reliable systems
Armatec develops and assembles custom units for customers working with train operators. This involves choosing the right products of the right sizes as well as ensuring that the unit is reliable and fits on board. Our broad product portfolio and comprehensive technical knowledge mean that we do not shy away, whether the requirement specifications span 5 pages or 250 pages.
As an example, we have contributed to greater reliability by developing redundant cooling systems for converters. If a converter fails due to a faulty pump, the train receives no electricity and stops. Quickly switching to a serviceable pump is the obvious solution. However, it takes clever engineering to create a reliable system that can switch pumps in less than a second.
Full steam ahead
The Swedish government has passed a national infrastructure plan for 2018–2029 totalling SEK 700 billion, of which investments in rail amount to about SEK 150 billion. This is a major investment that requires well-considered technical solutions, such as within sustainable flow technology – Armatec's area of expertise.
We can offer support within specific challenges at an early stage as well as advice on product choices and sizes later in the process. If we do not have the solution ourselves, we have an extensive network of experts working at our many suppliers who can help out. Please contact us if you would like to know more.
* Net emissions are calculated as gross emissions less the carbon stored in the landscape.