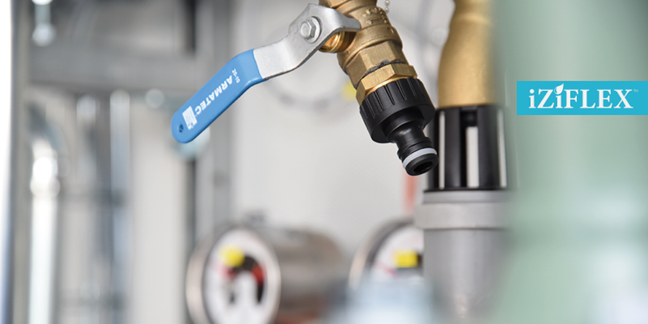 Prefab technical rooms reduce material waste
Less building material waste means less environmental impact. With prefabricated units such as the Armatec Iziflex, we can reduce material waste. Since we assemble everything indoors – well protected from the heat of the sun, pouring rain and winter cold – it is easier to plan how much material to use and to do things right from the start.
The prefab concept
Sweden has a long tradition of using prefabricated building elements. Christina, Queen of Sweden (1626–1689), is said to have built one of her hunting lodges using prefab building elements. When the house building industry gained momentum in the 1920s, several sawmills started manufacturing building elements.
Today, the prefabrication concept has been extended far beyond the frame. In our field, sustainable flow technology, prefab is a way to cut lead times and costs as well as material waste and crowding at construction sites. All that is really needed is a specification of the available space, the dimensions of any connections and whether it concerns heating, cooling or steam.
Right from the start
Armatec Iziflex is the name of our prefabricated and customised technology rooms. Each component product is selected from a life-cycle perspective. This involves weighing up a number of factors such as energy consumption, service interval and technical service life.
The next step is to assemble a complete unit from all these parts. We keep most products in stock while any others are easily procured through our established channels for the brands we represent. No products are switched during the final stages – you can expect quality products throughout.
All assembly takes place indoors in our temperature-controlled and clean premises. This makes it easy to do things right from the start. No frozen fingers or sweaty backs to cause problems. Instead, a comfortable working environment that minimises the risk of both material waste and someone dropping a product and having to discard it. Another aspect is fewer transport runs to and from the construction site. This reduces emissions and even noise levels for everyone living or working nearby.
Increasingly common
The Armatec Iziflex is attracting the interest of many of our customers in construction and industry. And no wonder. Prefab solves a number of challenges, such as "impossible" schedules, pressure to cut costs, labour shortages and the need for a quick start-up without teething troubles. You can also be sure that all components are chosen from a life-cycle perspective. And you can rest assured that there will not be any unnecessary material waste. All in all, this makes prefabricated technical rooms a sustainable choice.
Would you like to know more about the Armatec Iziflex? Then you are most welcome to get in touch. Take the opportunity to challenge us – we are happy to offer you an alternative to a built-on-site solution to consider.